Applications to review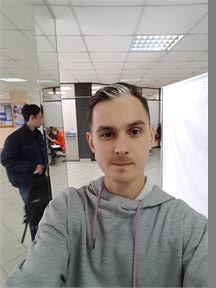 Available:
from 06/01/2017 to 09/15/2017
EDUCATION
2001-2010 School №25 (with advanced English)
Vladivostok

2010-2014 Academic college of VSUES


Faculty of Transport Safety
Field of study – Logistics

2014-present Vladivostok State University of Economics and Service
Faculty of Traffiс safety control
Field of study – Logistics and Traffic safety

WORK EXPERIENCE
26/05/2016 – 15/09/2016 Tony Harper's Pizza Clam & Shark (Old Forge, NY)
Position held: Dishwasher, Prep Cook, Cleaner, Hostess
Duties: cleaning dishes, help in the kitchen, preparation restaurant before opening.

02/06/2010 – 09/12/2011 Fast food cafe «BUBO»
Position held: kitchen worker, cashier
Duties: cooking, work with customers on the cash desk, dishwashing,
prep cook

09/20/2011 – 11/19/2012 Fast food cafe «BUBO»
Position held: Administrator
Duties: Opening and closing of the cafe, communication with clients, control of employees' work,
goods order and reception.


1/18/2013-9/15/2013 Cafe «GREEN CAFE»
Position held: Administrator, cashier, barista
Duties: waiter, barista, opening and closing of the cafe, stock count, goods display, work with
customers, cashier

09/21/2013-05/30/2014 Cafeé "The Friend's"
Position held: Food Service
Duties: Dishwasher, prep cook

06/10/2014-09/20/2014 Rolling cafe «coffee to go»
Position held: barista, driver
Duties: cooking coffee, cocktails etc., driving a microbus.

10/15/2014-02/09/2015 Transport company «Transit»
Position held: Logistician in the port
Duties: expeditor, filing in cargo documents, dispatching cargo, reporting activities.


06/03/2015-present IE Lavreniuk
Position held: courier
Duties: Food delivery to kindergartens

LANGUAGES
English - Intermediate
Russian native

OTHER SKILLS & OCCUPATIONS
I am smiling and sociable person, I try to avoid quarrels and have an active position in life. I try to make a new day better than yesterday.
HOBBIES & INTERESTS
I have an active lifestyle, in my spare time I like to go to swimming pool or gym and to go snowboarding. I spend my weekends with my family and friends. I study English. I love to travel. Last summer I have been in USA, it was amazing experience. It was a student program Work and Travel. And I have been in several cities of China and Thailand and I hope this list will enlarge with time.
ADDITIONAL COMMENTS
With friend Semianishchev Maksim