Applications to review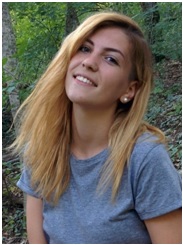 Available:
from 05/15/2020 to 09/15/2020
EDUCATION
Perm State University
Field of Study– Journalism
WORK EXPERIENCE
1) Jewelry store«585» (Perm, Russia)
Dates: 01/10/2012 – 20/12/2012
Position\duties: Promouter-contacting with people on the street,distributing flyers

2) Children's camp «Zvyozdnyj» (Perm, Russia)
Dates: 01/06/2015 – 22/06/2015
Position\duties: Counselor –conducting educational conversations with children, preparing children for performances at festivals, competitions, conflict resolution between children, organization of leisure activities for children, monitoring children's health.

3) Cafe «Сappuccini» (Perm, Russia)
Dates: 10/06/2016 – 30/08/2016
Position\duties: Ice cream seller–makingice cream, preparation of the workplace for work, cleaning the workplace, making coffee, coffee machine cleaning, opening and closing of the outlet

4) Shoe shop «Obuvnojperekryostok» (Perm, Russia)
Dates: 15/05/2017 – 15/08/2017
Position\duties:Shop assistant & Cashier -assisting shoppers to find the goods they are looking for, handle the payment for any purchases, be aware of what all the customers in the shop are doing, to guard against shoplifting, keeping the store tidy and clean, this includes hoovering and mopping, exposition of shoes for sale, warehouse cleaning, goods reception, accounting of goods.

5) Restaurant «Karusely» (Perm, Russia)
Dates: 30/03/2018 – 01/01/2019
Position\duties: Waiter– taking orders from visitors,rubbing dishes, table service, banquet hall preparation, banquet service, cleaning tables, food supply, table settings, consultation in the selection of dishes, making simple cocktails, making coffee, Ironing of work clothes.

6) Restaurant «Neva», (Perm, Russia)
Dates: 06/06/2019 – 20/09/2019
Position\duties:Banquet waiter – banquet hall preparation, rubbing dishes,banquet service, banquethall cleaning, Ironing of tablecloths,Ironing of work clothes.

LANGUAGES
English–Upper-Intermediate
OTHER SKILLS & OCCUPATIONS
endurance, sense of humor, educable, communicative, responsive, punctual, endurance, conscientious, always ready to work in team, ready to hard work, creative approach to work.
HOBBIES & INTERESTS
In my free time I like drawing in Adobe Illustrator, edit videos, draw on clothes and on paper. I like to take photos and then create something with these photos in Photoshop. During my holidays I usually travel, I've been to 19 Russian cities. I prefer active leisure,not chilling at the beach. That's why I like hiking too much. I am an activist at my university, I always take part in student festivals, I like to perform on stage. I like to study the cultures of different countries,last summer I was a host family for students from Turkey and Thailand. They were in Russia on an internship at the international organization AIESEC. I love animals, especially dogs, sometimes I visit dog shelters as a volunteer. I have a dog and I really enjoy walking with it.