Ride operators
Use seasonal hiring to cover your needs for ride operators!

Are you operating in the field of bringing happiness and joy to people? If so, you certainly wouldn't like to lack stuff during the warmer months, the most fun-filled part of the year. It does not matter how large your park or amusement place is. If you want to keep your business up and running while the sun shines with its full strength, hiring ride operators among willing seasonal employees is a wise decision to make. It's a great idea to select hard-working exchange students to fill entry level positions at your venue to handle all tasks relevant for ride operators, including:
Operating devices, controlling the equipment, turning it on and off according to schedule;
Giving usage directions to customers, informing patrons about fastening belts and other safety requirements;
Drive vehicles used by customers, control their speed and apply safety precautions;
Test equipment before opening and perform maintenance tasks;
Collecting tickets and fares from customers, keeping records;
Cleaning the area throughout the day;
Staying updated on current park layout, policies and procedures, communicating with the guests in a courteous manner;
Maintain the standards of quality, customer service and cleanness;
Keep the fun uninterrupted, use seasonal employment now before the crowds start coming!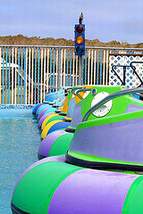 Hundreds of reliable, English-speaking international students are waiting to fill your ride operator positions. There are no costs for you as the employer; basically, you just have to inform us about your requirements concerning the participants, their sex, age, qualification, experience, and whatever else you have in mind. Register, provide information about your exact needs, and Jobofer.org will settle the rest, matching you with pre-selected candidates. Start now and don't miss a buck during the busy months!